DESIGNED & MADE
IN ENGLAND
The SMARTBOOTH is manufactured in the UK and specifically designed by Smartfix as a freestanding plug & go smart repair mini spray booth - ideal for alloy wheel repairs or the refinishing of any small items & components.

For most applications, the SMARTBOOTH does not require ducting to atmosphere. Independent testing demonstrated that the SMARTbooth controls hazardous substances to well below acceptable levels including isocyanates found in many 2 pack clearcoats.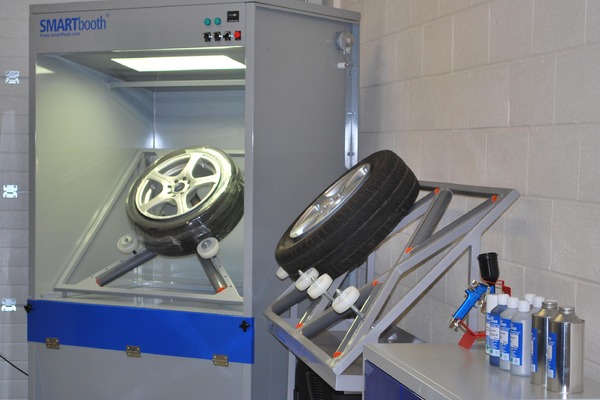 SIMPLE TO USE
Just plug in, turn on and start spraying. When you're done, turn it off....that's as complicated as it gets. The filters are automatically monitored by a differential pressure switch, so a red light will warn you when it's time to change the filters.

When the filters do need to be replaced, simply open the two drawers, lift out the old ones and drop in the new.
PATENTED
FEATURES
The SMARTBOOTH features a patented Air Curtain across the open face of the smart repair spray booth. Unlike other mobile paint booths for sale, this helps retain the paint spray in the booth while also helping to prevent contaminants from entering the spray area and spoiling the finish of your product.

Bright "daylight" LED lighting provides the ideal environment for detailed, high quality paint spray application.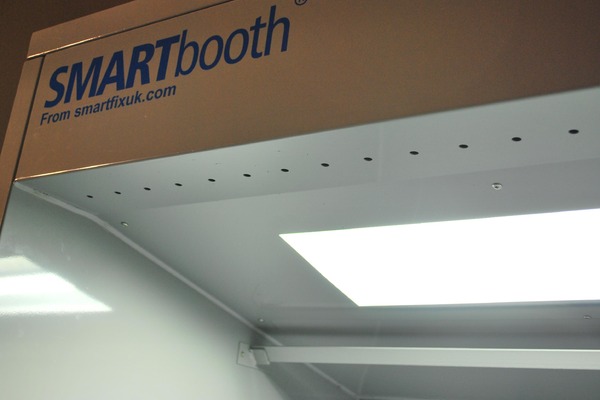 FILTRATION &
EXHAUST
The captured fumes and paint spray are processed through 4 stages of filtration including the optional activated carbon to remove particles and odour. The exhaust discharges at the rear through a standard 200mm duct. An optional silencer is available (pictured) to reduce the noise of the exhaust.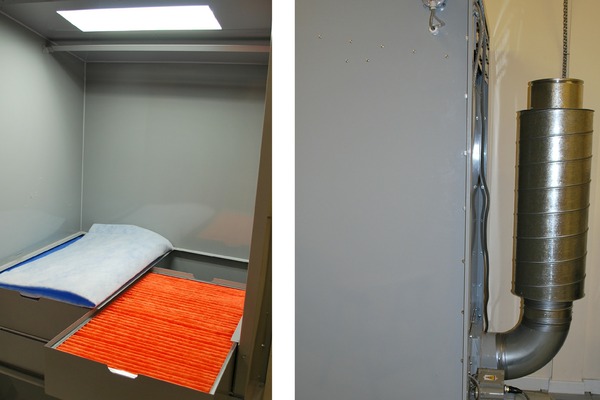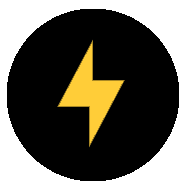 1 phase.
240v 25A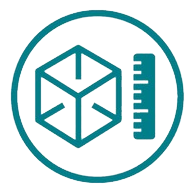 W: 1200mm
D: 900mm
H: 2150mm

250kg

6 weeks
Prices
| ITEM | PRICE £ (ex VAT) | PART NO. |
| --- | --- | --- |
| SMARTbooth | POA | SBTH |
| Rear Duct w/ Silencer | 395 | SBTH-DUCT |
| Activated Carbon Filter Set | 346.80 | SBTH-FIL-CRB-4 |
| Alloy Wheel Support Frame | 995 | SBTH-WHEEL |
| Perforated Worktop | 325 | SBTH-PERF |
prices exclude VAT & delivery
BUSINESS OPPORTUNITIES
The SMARTbooth is a core product in the production line process of our unique alloy wheel repair system. For more information, visit our Business Packages section to see how to create a new revenue stream for your business.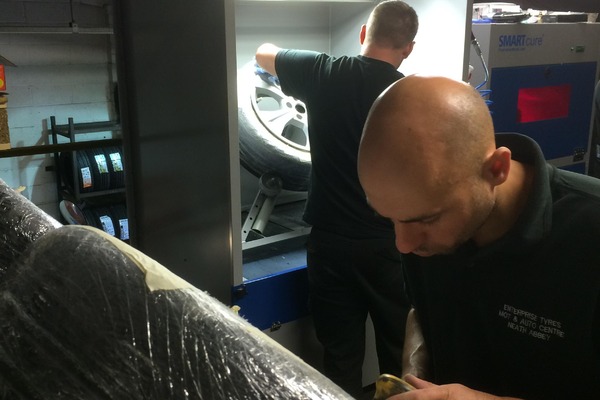 CONTACT
TODAY
Find our more about our SMARTbooth & how it integrates into our van builds.